The Detroit Mercantile Co. and Real Detroit Events present The Mitten Market: a one-evening, once-a-year pop-up holiday market featuring 70+ Michigan art/design/craft/food/gift/vintage/antique vendors, hot foods from great area restaurants, Tito's USA-made vodka bar, holiday owner+pet photo booth, a special live holiday music from Amy Gore, and much more! Eastworks Detroit will be one of the…
Looking for something special this holiday season?  Eastworks Detroit will on display and available for sale as part of the fifth annual Metro Times and Detroit Mercantile Co. Merry Market this December 10th & 11th.
Detroit Mercantile Co. is located at 3434 Russell St. Detroit, MI in historic Eastern Market.
For more information, visit www.detroitmercantile.com or https://www.facebook.com/events/1755899818005052
Skip the lines, ditch the malls and shop indie, handcrafted goods this holiday season at The Lodge! Eastworks Detroit will be on hand at historic Eastern Market for this free, two-day event featuring artisan vendors, food trucks and The Wild Turkey Bourbon Bar. This hardy holiday event takes place December 3rd 9am-9pm and December 4th…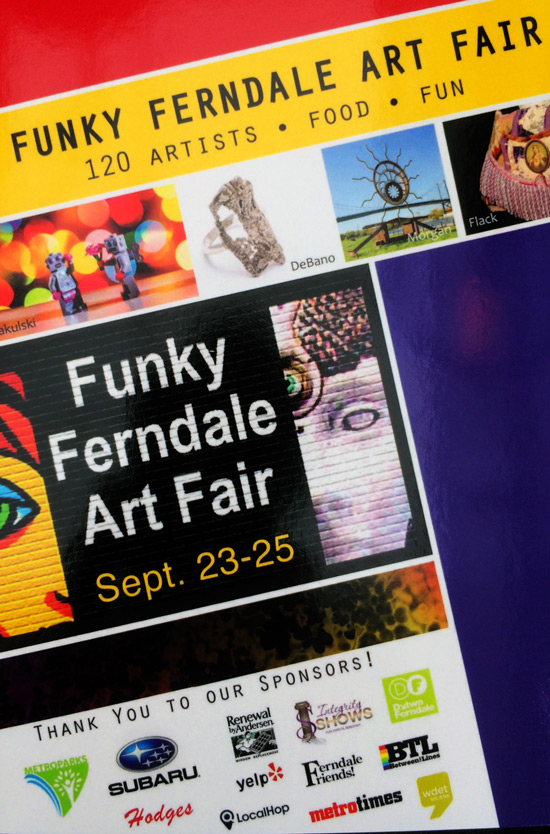 Eastworks Detroit will be at the Funky Ferndale Art Fair this upcoming Sept. 23-25!
The art fair takes place on 9 Mile, west of Woodward Ave and will include works from 120 artists,
Come out to see the latest pieces from Eastworks Detroit, try some great food and have a great time!
More information at http://www.funkyferndaleartfair.com
Eastworks Detroit will be returning to Hazel Park this upcoming August 27 & 28 as part of the 5th Annual Hazel Park Fine Art Fair. The fair will be held at Green Acres Park – 620 W. Woodward Heights, Hazel Park, MI Hours are SAT 10AM-9PM and SUN 10AM-7PM There will be live music and lots of…
Eastworks Detroit will be in Milford August 12-14 for the Milford Memories Summer Festival & Art Show!
Ranked 41st in the nation by 'Sunshine Magazine', and voted 2nd Best Festival by 'Vote 4 the Best' – this show is sure to be great fun and have lots to see and do!
For more information, visit www.milfordmemories.com
Join Eastworks Detroit this Friday thru Sunday in Plymouth at 'Art In The Park'! Now in its 35th year, Art In The Park will welcome over 400 artists from around the U.S. offering paintings, sculpture, ceramics, jewelry, fiber, glass, woodwork, photography, folk art & much more. In addition to the art, there will be entertainment and…